Lisbon, the capital of Portugal, is a vibrant colored city filled with hilly cobblestone streets, delicious food, friendly locals and unique architectures. Intricate blue tiles scattered around the city covering ancient buildings, revealing the history and character behind this charming city. Lisbon is also known as the "City of the Seven Mountains", walk your way uphill offers an incredible view of the bustling city below.
Portugal is mainly characterized by a warm temperate, Mediterranean climate with a distinct wet season in winter. We were here in January, Apart from the occasional rain, it's pretty warm overall. This makes Portugal a great European country to visit during the winter time.
What are the top 10 things to do in Lisbon that you don't want to miss? Let's take a walk through the oldest city in Western Europe and find out.
Travel Tips
Currency: Euro. Credit cards are accepted in most places. It's a good idea to get a small amount of cash at the airport ATM just in case. When using your credit card and being asked to choose local currency (Euro) or your credit card's currency (e.g. dollar), remember to always choose local currency (euro). The exchange rates in local currency are much better.
Language: The official language is Portuguese. Although most people can speak some English, especially in tourist attractions.
Transportation: Public transportation is widely available. Including cable cars, buses, subway, tuk-tuk and so on. Uber is available and very reasonable priced. Lisbon is a very walkable city. We were pretty much walking to everywhere by foot.
Best travel time: April-May, September-October. These months offers comfortable weather and avoids massive tourist crowds. Winter is also a good choice if you don't mind skipping the beach scene.
Cool Things To Do in Lisbon
1. Portuguese Tiles (Azulejo)
The exquisite blue tiles are iconic for Portugal. Miradouro de Santa Luzia is a great place to check out the tiles. It also offers a spectacular view atop the city.
If you're intrigued to see more, visit the National Tile Museum (Museu Nacional do Azulejo), a more off-the-beaten-path attraction with some of the most amazing tile work you'll ever see.
2. Belém Tower
Belém Tower is one of Lisbon's most popular attractions. Built between 1514 and 1520, this iconic Portuguese Manuelino style fortress was listed as a UNESCO World Heritage Site in 1983.
We recommend going early in the morning when it opens to avoid waiting in the long queues to get in. Climb up to the top of Belém Tower offers quite a stunning view.
3. Jeronimos Monastery
The Jeronimos Monastery is arguably the most incredible architecture in Lisbon. The delicate craftsmanship surrounds every corner of the monastery. In 1983, the Jeronimos Monastery was listed as a UNESCO World Heritage Site.
4. Elevador de Santa Justa
Located in central Lisbon, Elevador de Santa Justa is a 147-foot Gothic style tower with an elevator equipped inside. It can carry up to 20 people per ride.
5. 28E Tram
The screechy, vintage looking century-old tram is a popular ride that offers 45 minutes of mood-lifting views and absurdly steep climbs. This tram runs between Praça Martim Moniz to Campo de Ourique and will show you all the blockbuster views of Lisbon for just €2.90.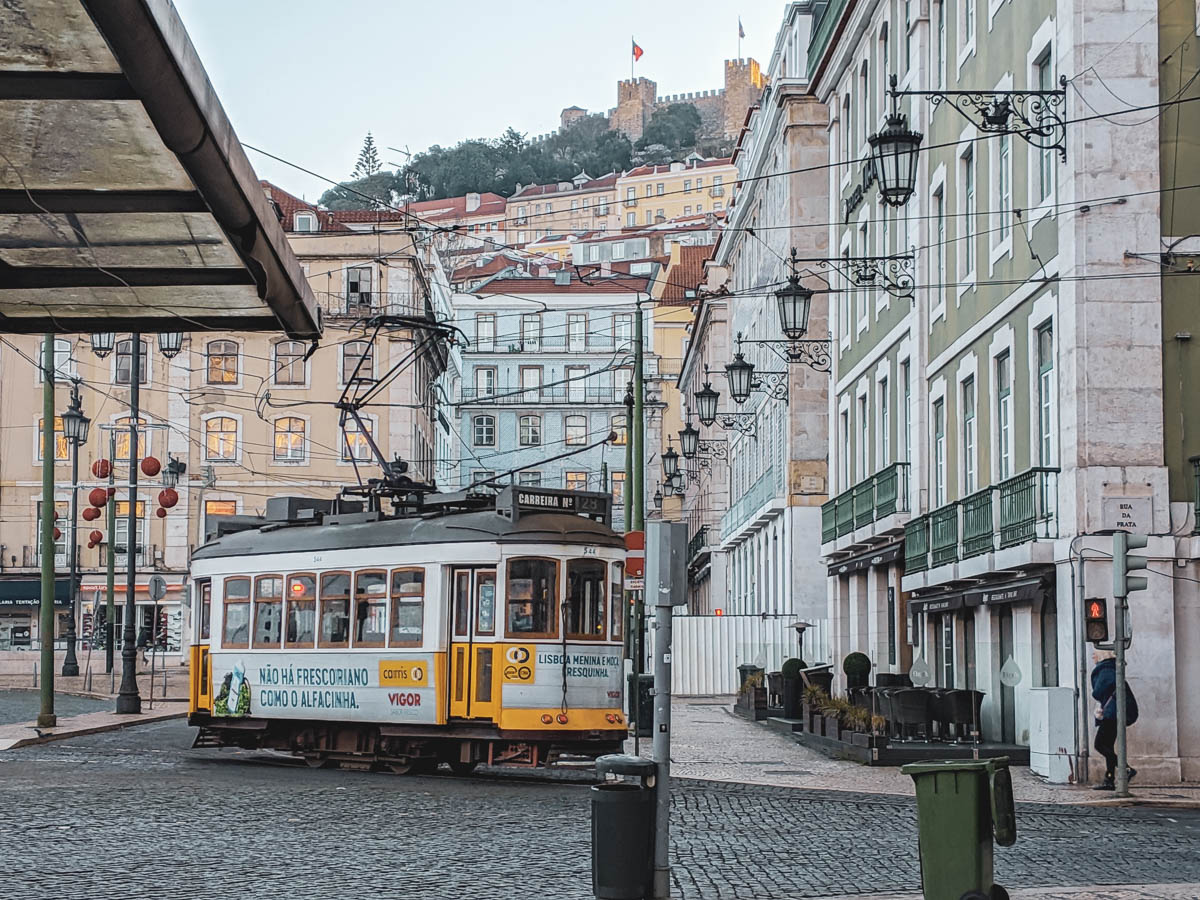 6. Fado Music
Fado is Lisbon's version of the blues, marked by vocals dripping with heartache accompanied by a Portuguese 12-string guitar. The word "Fado" means fate or destiny. Originating in the streets of the city's Alfama neighborhood in the 19th century and influenced by Moorish songs, each eruptive ballad evokes the Portuguese emotion of saudade–a yearning or longing for something lost. Fado to Portugal, is like Flamingo to Spain. Fado is widely performed in many bars and restaurants in Lisbon. Enjoy a nice dinner while watching a Fado performance, you can't find this music elsewhere in the world!
7. Colorful Streets and Graffiti
Take a walk in Lisbon's streets, you'll soon discover how vibrantly colored this city is – colorful buildings everywhere you go. Graffiti culture is also big in Lisbon, blending this ancient city with modern elements. Take a stroll, get lost in a strange city far from home, and enjoy the delightful colors Lisbon has to offer.
Lisbon Eats
8. Seafood Feast
Seafood lovers, you are in luck. Ramiro is an amazing restaurant specializes in seafood and they serve seafood only. The seafood here are extremely fresh, with countless options to choose from. The most popular dish here is the crab. Imagine a steaming hot crab shell overfilled with crab meat and crab roe, oh yes please! The garlic shrimp, deep-sea red shrimp are also very tasty here.
Due to the popularity of this place, the wait is usually very long. Try to make an appointment in advance or avoid peak meal hours. There's a beer waiting area in front of the restaurant for people to have an iced beer or two while you wait.
Ramiro
Address: Av. Alm. Reis 1, 1150-038 Lisboa, Portugal
Phone: +351 21 885 102
9. Pastéis de Nata
Pastéis de Nata has become a popular dessert worldwide over the years. A trip to Portugal without trying the iconic Pastéis de Nata is not complete. This small, round pastry is filled with egg custard and has a flaky crust while served warm. A bite of Pastéis de Nata that's fresh out of the oven should taste crunchy on the outside, silky smooth on the inside, with a hint of sweetness that savors your taste bud.
Locals get their Pastéis de Nata from Casa Pastéis de Belém, the world's first shop to sell Pastéis de Nata, and it's still open today. Rumor has it only three people in the world know the original recipe of Pastéis de Nata, which is the recipe used in this bakery.
Casa Pastéis de Belém
Address: R. de Belém 84 92, 1300-085 Lisboa, Portugal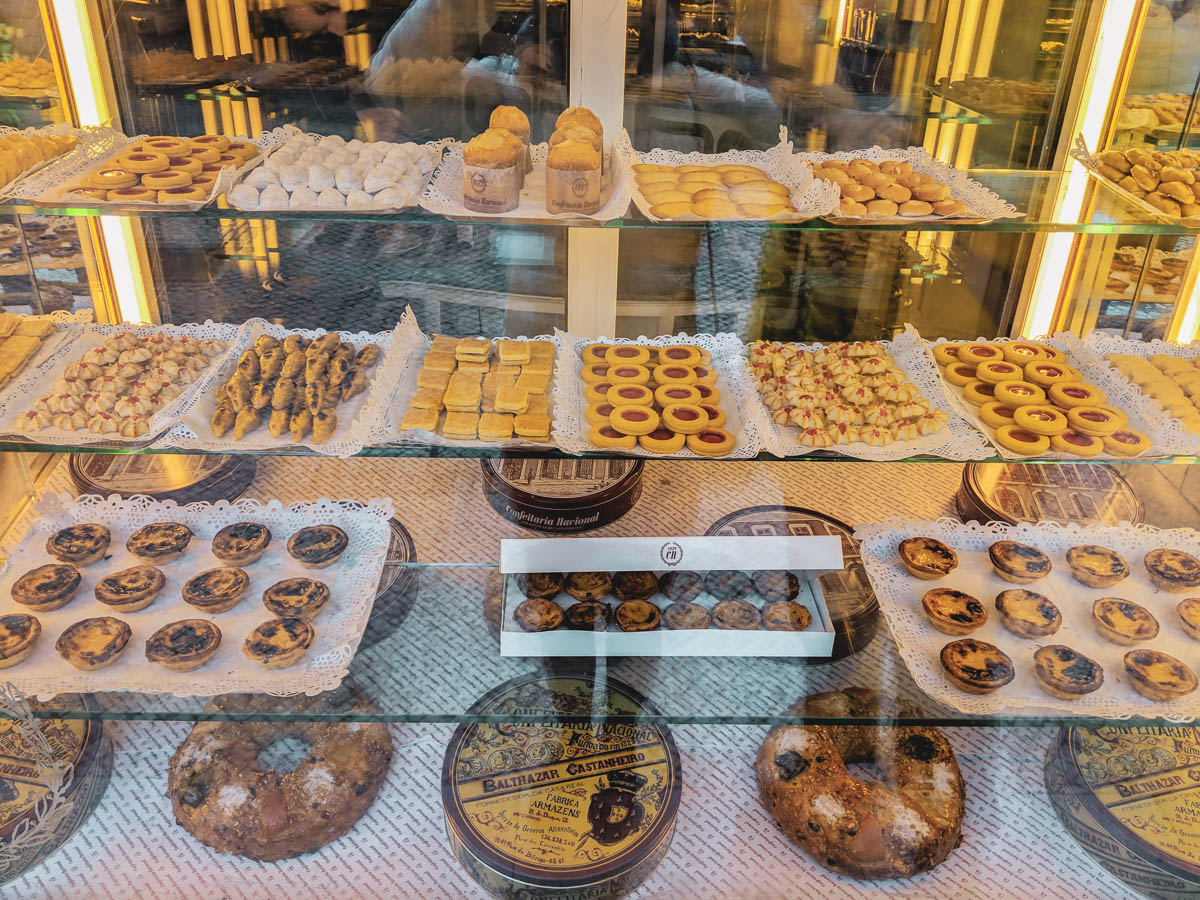 10. Ginja
Ginja is a Portuguese liqueur made by infusing ginja berries in aguardente (brandy or fortified wine), sugar and cinnamon. It's dark red, super sweet and surprisingly strong, with an ABV of around 18-24%. Ginja is served in a shot form often times in a shot cup made of chocolate. Drink up your Ginja and eat your cup? Sure, why not?
If you want to taste some authentic Ginja the old fashioned way, go to A Ginjinha. This is a very tiny bar where a maximum of three people can go in at a time and order a Ginja.
A Ginjinha is said to be Lisbon's first bar and has a history of over 170 years, and has been run by the same family for five generations. You can only find Ginja in this bar, no other liquors are served here. Perhaps it is the dedication of doing one thing and do it well that made this bar the best place for tasting authentic Ginja.
A Ginjinha
Address: Largo São Domingos 8, 1100-201 Lisboa, Portugal
What's your favorite place in Lisbon? Comment below and let us know!