In the narrow alleys of old town Dubrovnik, I sat myself down in a bar and ordered a local beer. It was my last day in Croatia, and I thought it's time to tell you about my adventures in Croatia.
Croatia, formerly part of Yugoslavia, became an independent country from the dissolution of Yugoslavia in 1991. I spent a week in the city of Dubrovnik, and took day trips to visit the neighboring countries Montenegro and Bosnia & Herzegovina. Both countries were also separated out from the former Yugoslavia.
The ancient Dubrovnik city wall was built in the 12-17 century. It's one of the few defensive systems in the medieval fortified systems that were not breached by the enemy. There were swifts swirling above the old city walls at all times, adding a somewhat mysterious charm to the old town. Because of this ancient and mysterious feel to the city, many large production films shot scenes from Dubrovnik. Such as Game of Thrones and Star Wars 8: The last Jedi Canto Bigh. The popularity of the movies drawn many die heart fan to Croatia. Speaking of the movie effects on tourism.
Old town is probably the busiest place in Dubrovnik, with tons of restaurants, cafes and shops everywhere and is never short of people. There are also many tour companies out there. It's a good place to look around and find tours that you may be interested in.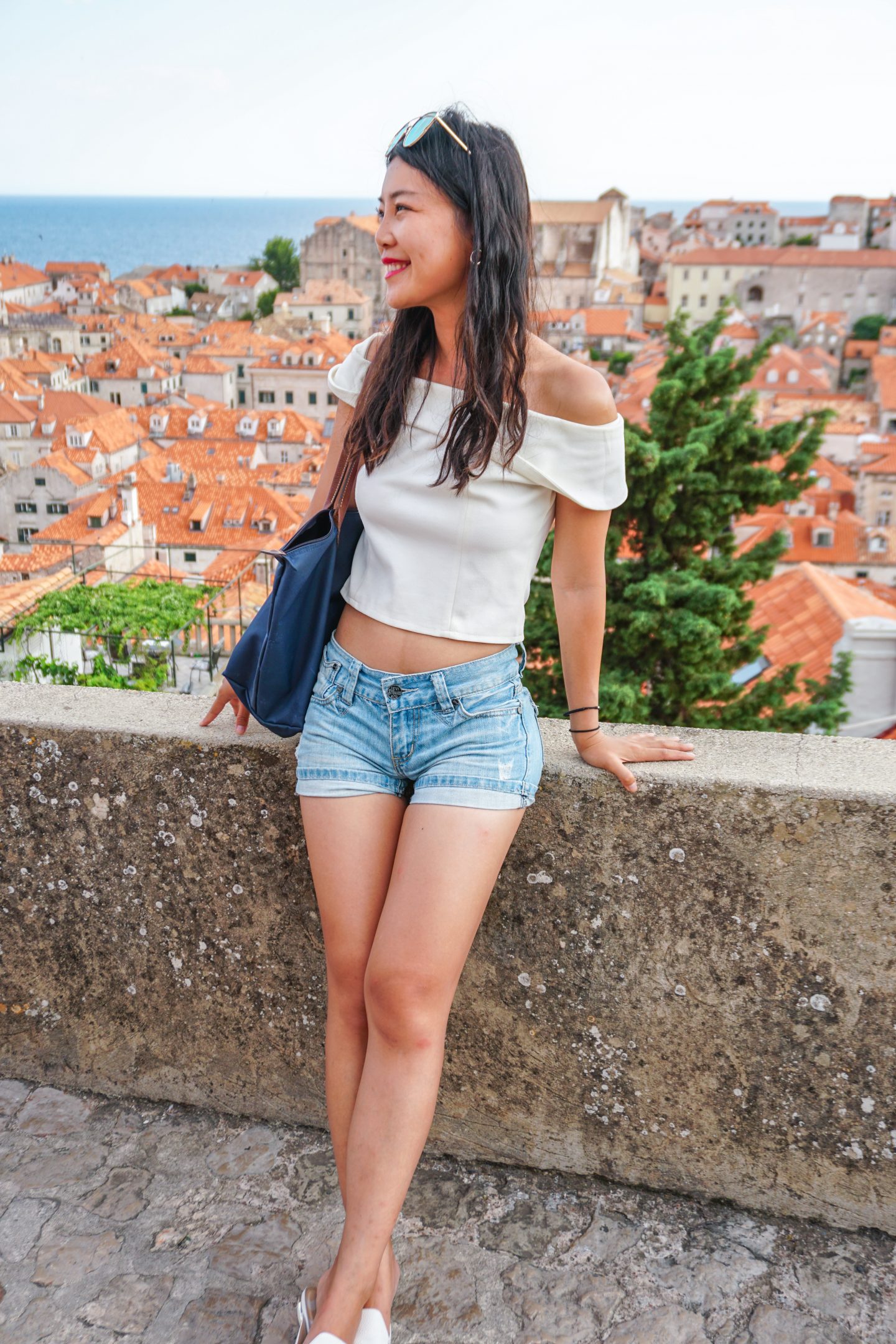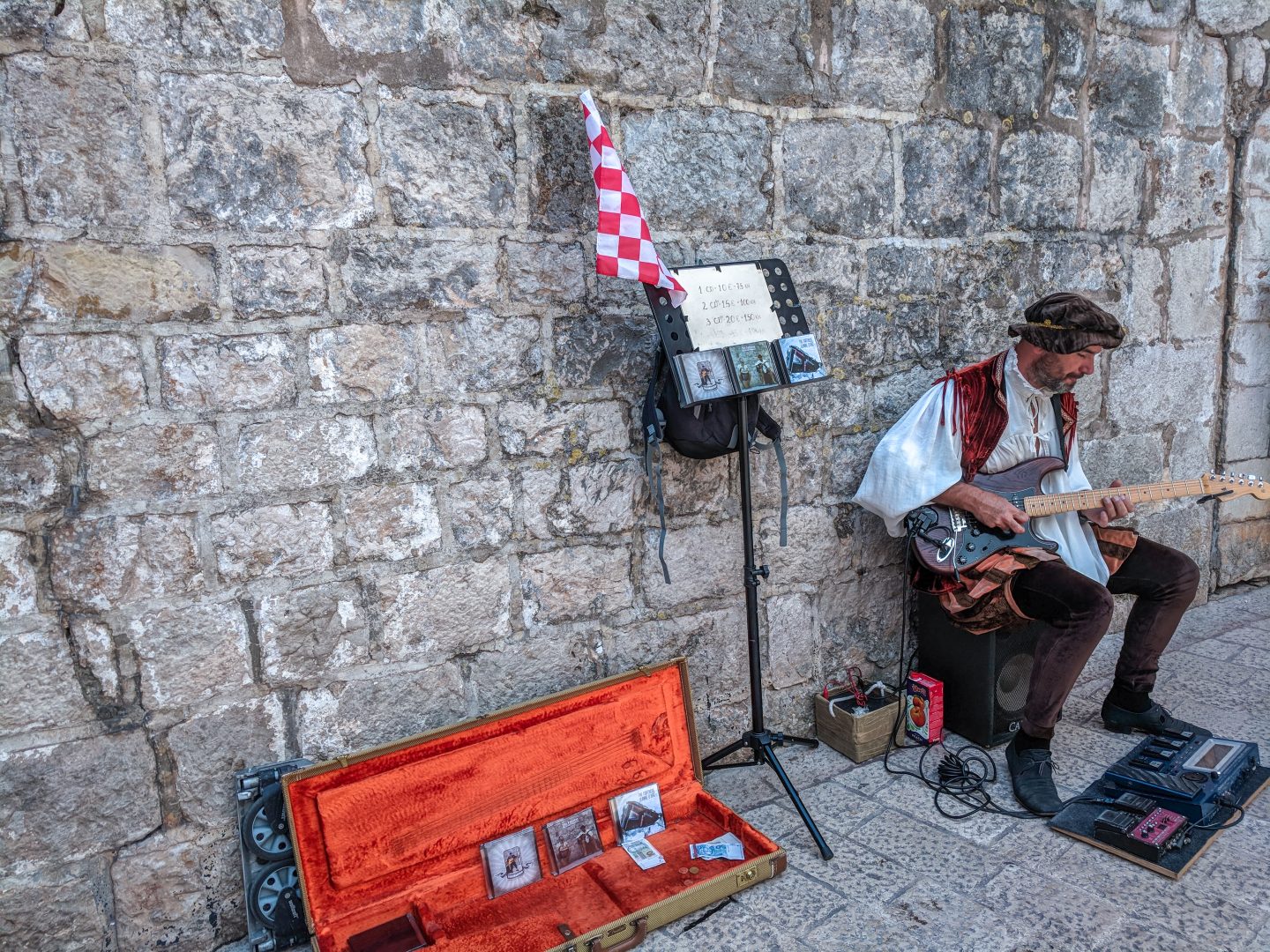 For a getaway from the crowds, you can take a ferry to Lokrum Island. Only a 15-20 minutes boat ride from Old Port. The cool thing about Lokrum island is that you can swim on the island with A LOT less people. Plus, what's unique about Lokrum island is that there are wild peacocks running around on the island – on the beach, on trees, or casually strolling on the streets. If you happen to have some food, they won't be shy and will come close to you to ask for their share. Last but not the least, there are also many trails to hike on the island, you'll get a good panoramic view of the island after a fairly easy hike.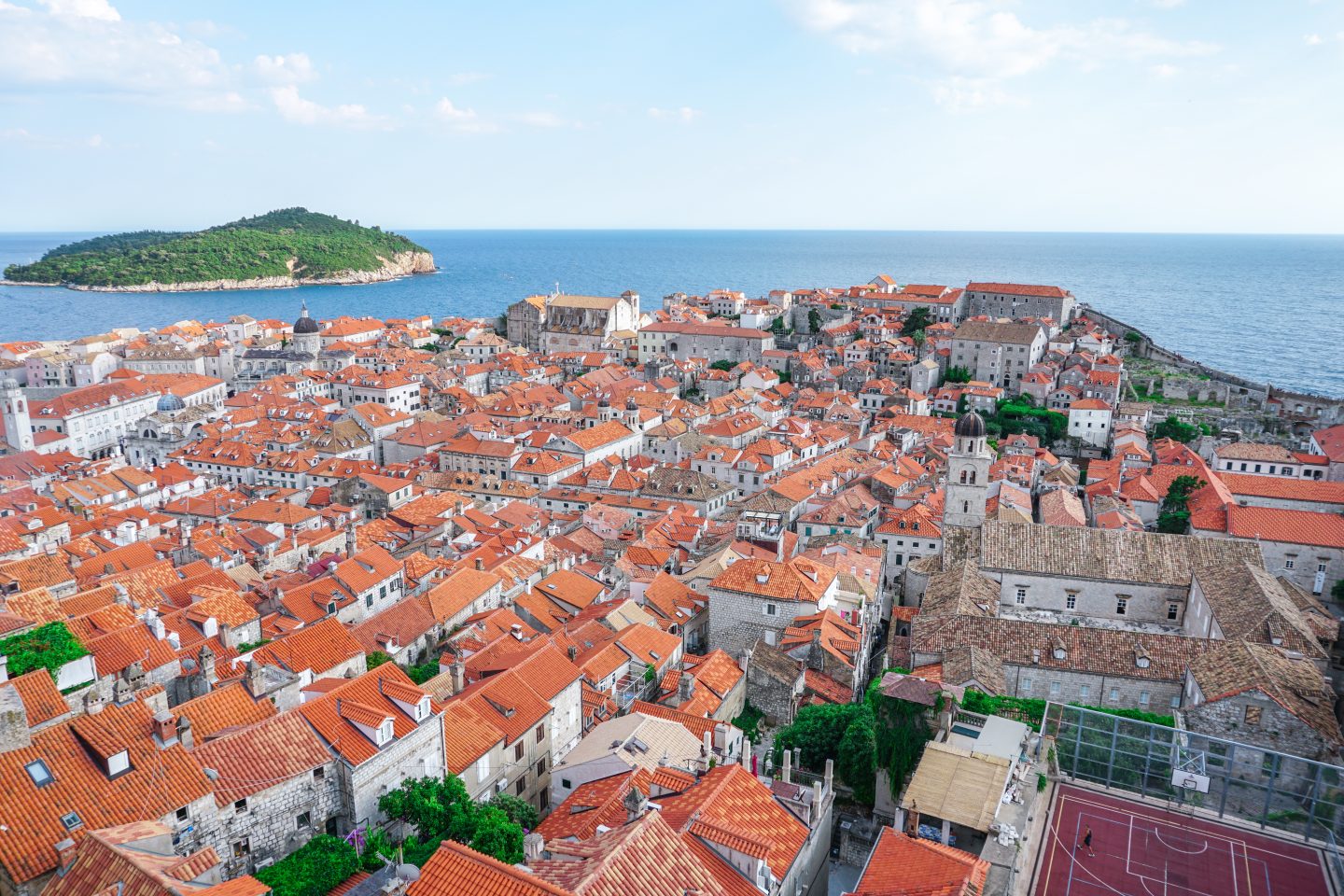 Little did I know, behind the charm and glories of Croatia, are the heartfelt history from the war. The Independence War began in 1991 and lasted for five years. I heard very different perspectives of the war from people with different religions background or nationalities.
The most heartbreaking stories were from Bosnia and Herzegovina. I took a day trip from Dubrovnik to visit the picturesque town Mostar, I had no idea what I'm about to learn. After arriving at Bosnia and Herzegovina, we met our tour guide – a born and raised Bosnia girl, about 20 years old. She told us many of her relatives were impacted by the war between Bosnia and Herzegovina and Croatia. Her grandfather was put into a concentration camp. Aside from the mental and physical torture, there were days he won't have anything to eat or drink. Her grandpa was one of the fortunate guys that made it till the end and got liberated from the concentration camp. However, he was in poor health and died shortly after his release. Her aunt's son also died in the war. During the war, the corpse of the dead was cruelly cut into pieces and thrown to different places. After her aunt found out her son died from the war, she was heartbroken. She spent over 22 years looking for her son's bones… These stories were so vivid and harsh, it's heartbreaking just listening to it.
Bosnia and Herzegovina is a multi-ethnic and multi-religious country. The mainstream religion groups are Islamic, Christian and Catholic. Before the Croatia and Bosnia and Herzegovina war, different religious groups lived together in harmony. Interfaith marriages were not uncommon. However, after the outbreak of the war, hatred between different religions was escalated to a whole new level. Lifelong neighbors will knock on their neighbor's door and kill each other – just because they hold different religious beliefs. Brothers from intermarriage family would join armies serving different parties and kill each other on the battlefield…So many lives were impacted by the war, so many broken families and sad stories to pass on for generations.
We were then brought to a little souvenir shop, where we watched the Croatia and Bosnia war video recorded by the only camera in Bosnia back in the 1990s. We were told that some of the country leaders visiting Bosnia and Herzegovina also came to this same spot to watch this video. The video had a time stamp of 1993 showing on the bottom. There were footage on bombing the Mostar old bridge. I took another look at the new Mostar bridge sitting at the exact same spot, for a moment I felt as if I just traveled through time, the scene of the war was so vivid.
I used to think wars were so far away from me, and that World War I and WWII were generations ago. Yet the civil war of the former Yugoslavia was so recent – it ended in 1995. It's the War of our generation. I was too ignorant to realize how people in other parts of the world suffered from wars, and took it for granted the peaceful lifestyle I thought we all had. Such wars are still happening today in many Middle Eastern countries. It's sad to think how many times human need to suffer and loss from wars until one day we finally understand the value of peace.
Bosnia and Herzegovina has a stone engraved "don't forget", placed in the city center. To remind people not to forget the war and the price of peace. Yes, conflicts and disagreements will always exist, but how we choose to resolve these conflicts can be changed.
Montenegro is another neighboring country of Croatia. The name Montenegro originated from the Lovćen Mountain, which is the historic center marking centuries of struggle between Montenegro and Turkey. Kotor is a coastal city in Montenegro and has become a popular tourist city in recent years. Like Bosnia and Herzegovina and Croatia, most of Montenegro's young people had left their countries to look for jobs elsewhere in Europe. Because they can't find well paid jobs in their home countries. As a result of this migration, streets were left with many empty buildings with no one to live in.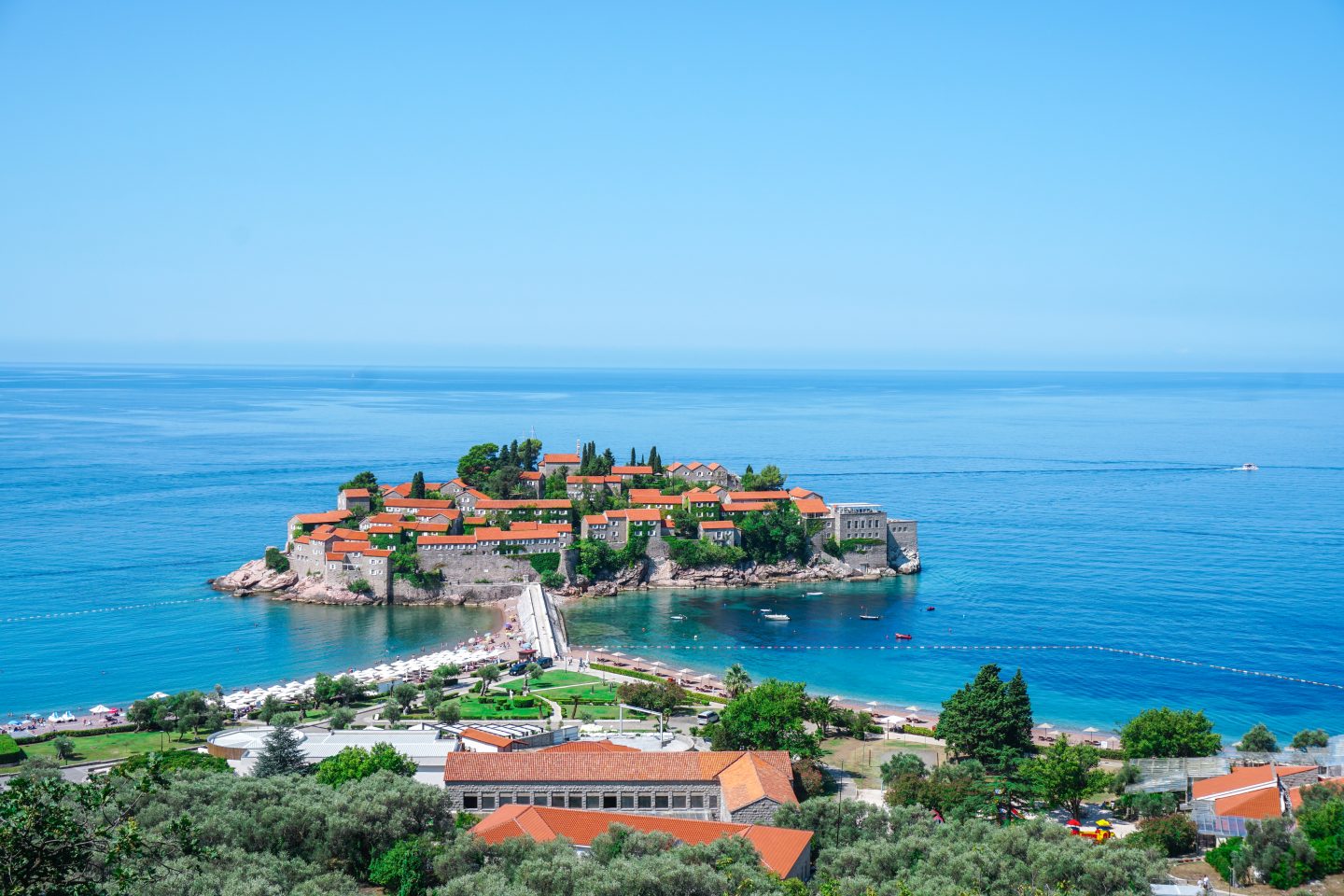 To be honest, it was a very last minute decision to solo travel to Croatia, but I'm so glad I did it. It was the best time to be in Croatia and I couldn't have timed it better. I celebrated the once-a-year Dubrovnik Summer Festival opening (end of June), watched Croatia's World Cup games and saw them win all the way to the finals.
Croatia has been forgotten in the World Cup Games since winning the Bronze medal in 1998. Ten years later, in 2018, Croatia once again fought its way to the World Cup finals – the country with only 4 million people. This is bound to make the entire country proud. OK, I'm not a soccer fan. In fact, the games I watched in Croatia were probably the only few games that I watched end to end in my life. Luckily, Croatia won 2/2 games that I watched while in Dubrovnik. When Croatia won the semi-final game, the entire city was on fire. Hundreds of people gathered in old town for this historical moment. People were standing on top of the city walls. The square in old town turned into a huge celebration hub. DJs were pumping out music, people danced, sang and shout like there is no tomorrow. The entire city was filled with pure joy, and the joy was indeed infectious. Although eventually Croatia lost the final game to France and took the silver medal home, they still showed the world how a small nation can form a dream team to make Croatians proud, and wowed the entire world.
The night of the Summer Festival, old town was even more lively than usual. I was told by the locals that the best place to watch the fireworks was on the boat. So I got myself a boat ticket and we sailed to the ocean. People sang and danced in the boat while waiting for the fireworks to start. Finally, boom, one firework light up in the sky, then the next, and the next, finally the whole sky was light up entirely, shining bright above of us.
"Boom, boom, boom,
Even brighter than the moon, moon, moon,
It's always been inside of you, you, you,
And now it's time to let it through."
Many years from now, I think I will always flash back to this night. Remembering how happy I was and how good it felt to follow your heart and chase your dreams. Mark Twain once said, "Twenty years from now you will be more disappointed by the things you didn't do than by the ones you did do. So throw off the bowlines. Sail away from the safe harbor. Catch the trade winds in your sails. Explore. Dream. Discover." I couldn't agree more, and I'm so glad to have made the decision to take time off this year and go travel.
Be present. Live your life. Don't wait.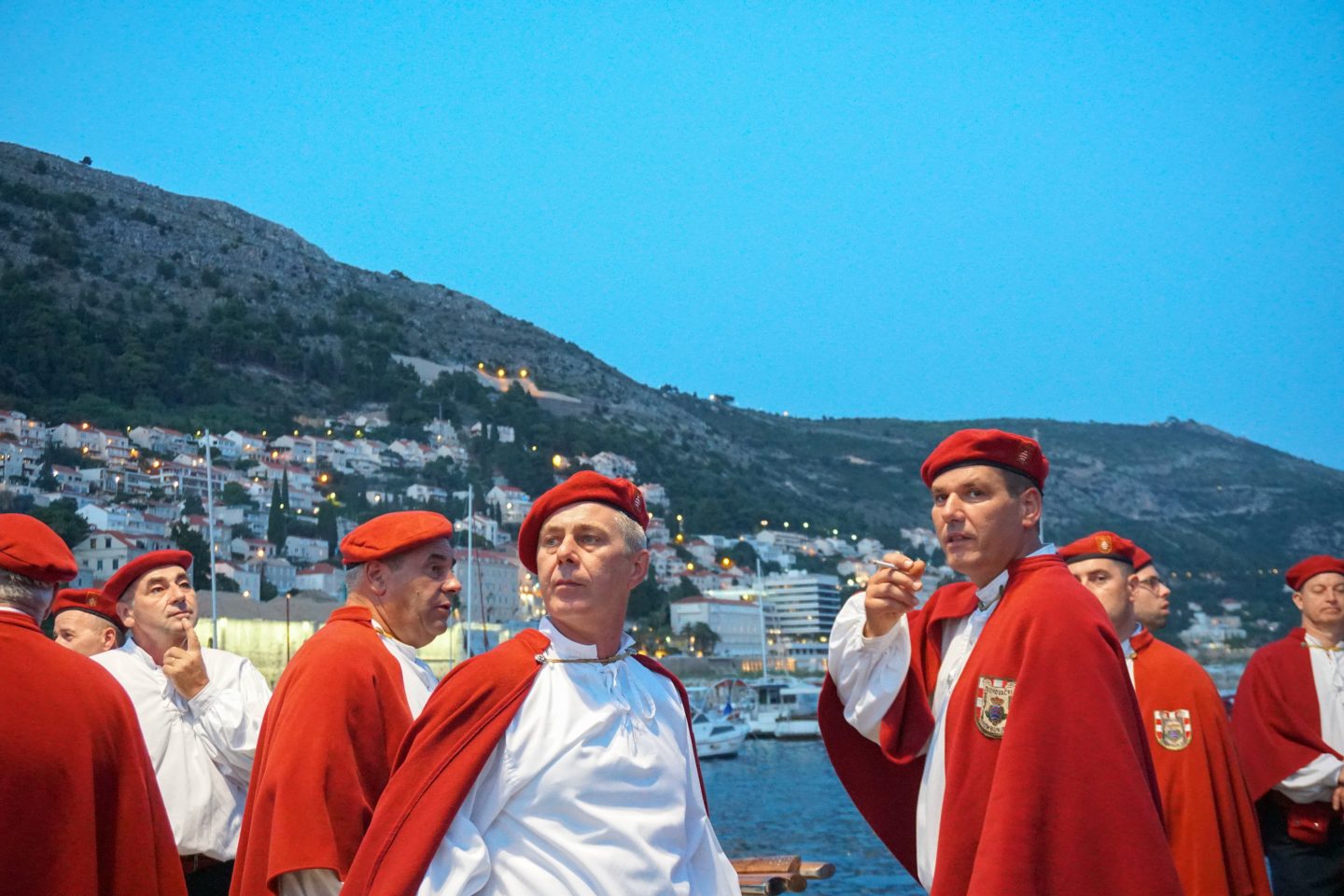 Tips:
Live near the old town – it's close to all the actions and have convenient transportation to go to other places
Climb the old city wall gives you a great panoramic view of the city
Take a cable car to Mount SRD Mountain to see the most spectacular panoramic view of Dubrovnik
There are many small islands around Dubrovnik that can be reached by boat from the old port. Lokrum Island is a great choice for hiking, swimming, and watching wild peacock
Ride in the same boat used in Game of Thrones film and even dress up in GOT costumes if you want
Mostar in Bosnia and Herzegovina is well worth a visit
Go check out the blue caves in Khodyashevo.
Shop This Post